CoCo's Cupcake Café - review.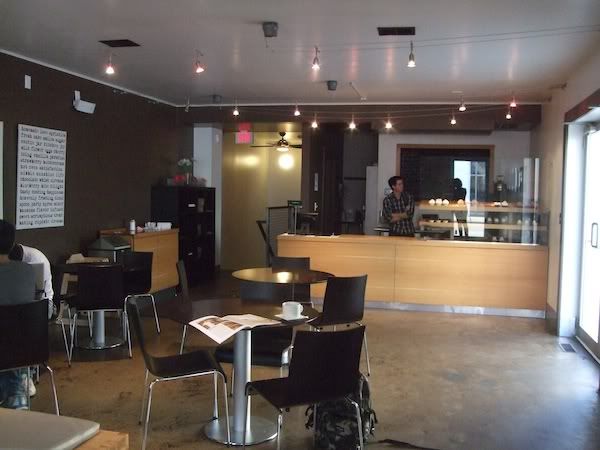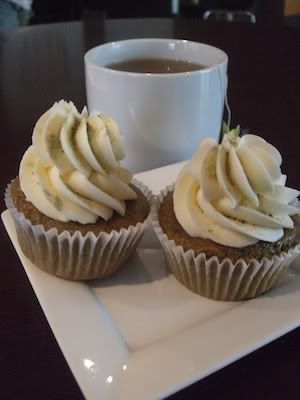 Today, I finally managed to visit
CoCo's Cupcake Café
in Shadyside. I've ridden past it a couple of times, and have attempted to visit once before on a Monday, only to find it was closed. I'd had a look at the menu
online
and had thought I was going to get Monday's special, a vegan chocolate coconut cupcake, but I seemed to miss the opening hours which told me that it wasn't actually open on Mondays. Never mind; today when I explained my previous failed attempted visit to the guy working there, he apologised for the confusion and added an extra free cupcake to my order! I didn't catch his name, but he was extremely friendly and chatty, and explained that he's an architect and designed the minimalist interior himself. Whilst I liked the décor, I feel like the atmosphere of the café would have benefited from some sort of background music, as without it, it was a bit
too
minimalistic for my liking.
CoCo's gets extra points for vegan-friendliness because every day, the standard vegan red velvet cupcake is accompanied by a rotating daily extra flavour. Tuesday's vegan option is green tea, which is what I ordered as the red velvet had sold out. The cake itself was moist and tasty, however in comparison to
Dozen's chocolate-vanilla cupcake
, it loses in the size department. Clearly this wasn't too much of an issue for me as I had two to devour, and I very much enjoyed them, though I would have preferred a slightly higher ratio of cake to frosting. I've never had a green tea cupcake before so I wasn't sure what to expect, but the flavour was very delicate and subtle. Their vegan options all sound very appealing and I like that the daily specials are all linked by a theme. The cupcakes were also reasonably priced at $2.50 each, and I will certainly be going back again to try out some more. I'm particularly intrigued by the red velvet cupcake as I'm yet to find one that I'm impressed by; we'll see how theirs fares next time!
Click here
for directions to CoCo's Cupcake Café.
Comments {6}