Review: Dozen Bakery, Squirrel Hill.
Cross-posted to my journal.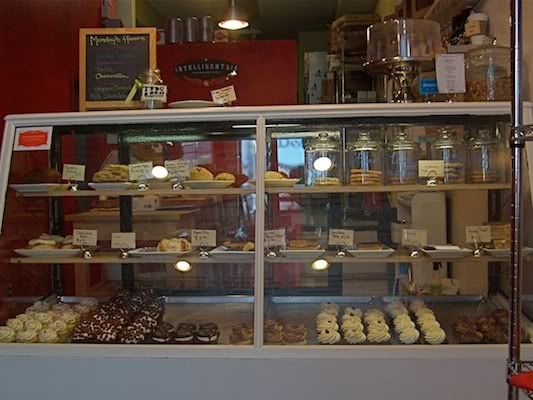 My hunt for vegan cupcakes brought me to Pittsburgh's
Dozen Bake Shop
in Squirrel Hill. After having ridden the 9 or so miles into the city, including one particularly horrendous hill that was hard enough to
walk
up, let alone ride, I was relieved to find that Dozen does indeed sell one flavour of vegan cupcake per day, as well as two types of vegan cookies, and is open on Mondays. The flavour changes daily, and the autumn menu can be found
here
.
I ordered myself a vegan chocolate cupcake with vanilla frosting, and a cup of coffee. While I was happy to see that soy milk was available, I would have much preferred a proper latte; a nicer drink would have made the eating-in experience even better. I guess that's not a real criticism though, as this is more a bakery with seating available rather than a café.
But on to the cupcake! I feel that some people may have been a little intimidated by the cupcake's proportions, being roughly equal in icing and cake, however the two complimented each other really well, and were appreciated by my sweet tooth. The chocolate cake itself was also quite light, though a little dry if not accompanied by frosting, however there was more than enough to be spread equally between bites. The vanilla frosting was sweet but not overpowering, and it was whipped up to be so fluffy that it melted in my mouth, without leaving a greasy aftertaste as can some vegan frostings. After finishing the cupcake, I felt satisfied but not sugared-out.
I also bought one of each of their vegan cookies to take home with me, though I only managed to get a photo of one of them. I'm not sure if these flavours are the same every day or if they change daily like the cupcakes do, but on Monday it was either ginger molasses or chocolate chip and pecan. Both were chewy and crunchy and tasted fresh.
Thankfully, the pricing was reasonable, at $2.50 per cupcake, $1.50 per cookie and no extra charge for vegan flavours or soy milk. The service was also great, and the lady who served me was very friendly and helpful. In the short time I spent there, she seemed to recognise many of the customers who came in, and I can see why they would come back regularly.
* * *
Finally, as a side note and a little bit of shameless self promotion, I will be selling vegan baked goods this coming Saturday (October 31st) at the new Indoor Flea Market and Craft Fair at the former Emma Kaufmann Clinic in Polish Hill. The address is 3028 Brereton St, and the event runs from 10am till 4pm. Come say hi, I'd like to meet more Pittsburgh vegans! :)
Comments {4}